VI International Competition Of Young Actors Of The Operetta
The directors and the artistic leaders of the leading musicals in Russia, make up the international judges for the competition. As well as foreign producers and those involved in musicals and theatre. "OperettaLand" is not just a creative competition of young actors but also a unique fair of young talents. The competition consists of three stages and it is concluded with "Gala" Concert of the laureates.
The target of the competition is to develop and discover new names in the genre of the operetta and to further assist their professional growth and to develop their potential.
News
Among the various music competitions and festivals there is one particular contest that is like a magical journey to a beautiful country; named "OperettaLand." This international competition is held annually in Moscow. Gerard Vasilyev's Fund and the production center ArtSimfoni for the sixth time in late October will let the audience discover new names in this beautiful and mysterious genre. To tell us more about the contest we asked the President and the Chairman of the Jury, People's Artist of Russia, soloist of the theater "Moscow Operetta" Gerard Vasilyev.
Participation in the Competition
For the participation in the competition both Russian and International talents are invited.
Blog

operettaland.livejournal.com (In Russian)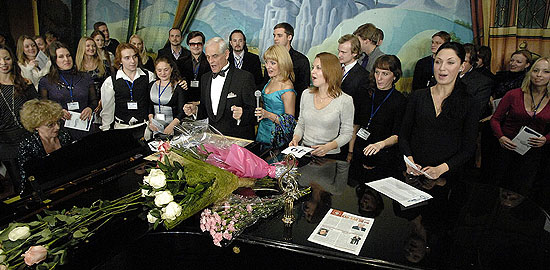 OperettaLand-2010
Information Support
КCompetition is actively illuminated with the media: the news releases of television channels "Russia",  "Kultura", "Stolica", the programmes with the participation of the laureates of the VGTRK "Kultura", "Radio Russia", "Radio Orfei" and "Radio Kultura". The articles in the different newspapers and magazines. The "Gala" Concerts of the laureates of competition of 2007 and 2008 were repeatedly demonstarted on the television channel "Kultura".

The competition is taking place with the support from:
Ministries of Culture of Russia
The Department of the Culture of the Governemnt of Moscow City
The Union of theatrical workers of Russia.